 working with artists to bring feeling to a mechanized world
OUR CURRENT PROJECT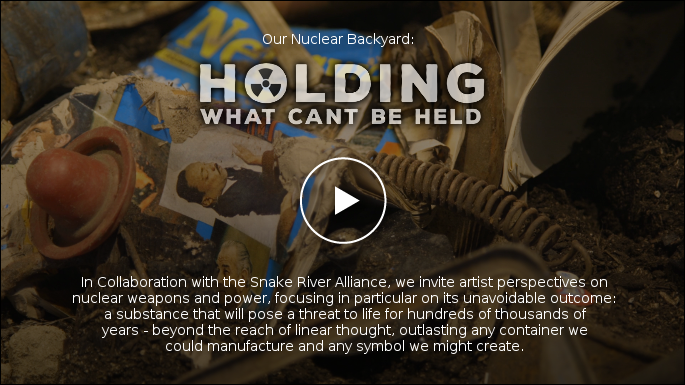 The Feeling Body and Snake River Alliance invite artists to tour the nuclear radioactive clean-up sites at the Idaho National Laboratory (INL), located in Idaho's Arco desert on the aboriginal lands of the Shoshone-Bannock tribes. After experiencing the site, artists meet periodically and engage in a workshop setting, encouraging unexpected collaborations while deepening individual experiences of this complex site. Holding What Can't Be Held hopes to evoke new ways of seeing the nuclear waste in our backyard. The next INL tour will be Spring 2017. For information about coming along, follow the link below.
PARTICIPATE
EVENTS
The 2016 exhibition runs from December 17th 2016 through February 4th 2017 at Ming Studios at 420 S. Sixth Street Boise, Idaho 83702.

INL Nuclear Cleanup Presentation Wednesday, January 18 7:00-9:00pm.
The Snake River Alliance nuclear program director Beatrice Brailsford will be at MING Studios to talk about the history of nuclear contamination in Idaho, radioactive "clean up" efforts at the Idaho National Laboratory, current nuclear threats, and what we can do to help keep Idaho safe from further radioactive contamination. Come learn about the dangers and see artists' responses to them.

Closing Reception Saturday, February 4th, 7-10pm at MING Studios.
Last chance to view Holding What Can't Be Held 2016. Live music by Nick Delffs, Bijouxx, and Elijah Jensen-Lindsey. Beer and wine offered.

Closing Night Fundraising Dinner Friday, February 3rd 6:00-9:00pm at MING studios.
Dine amidst the art and meet the artists of this compelling exhibition. Enjoy the DJ stylings of "The Professor" Jonathan Sadler, a glass of wine, and a spectacular dinner prepared by Wild Plum. Selected exhibition pieces will be available for auction or purchase. Proceeds will support Holding What Can't Be Held 2017. $75 per person, $65 for MING members.
PURCHASE TICKETS